Looked like a great cause to Support - See the NRA details below: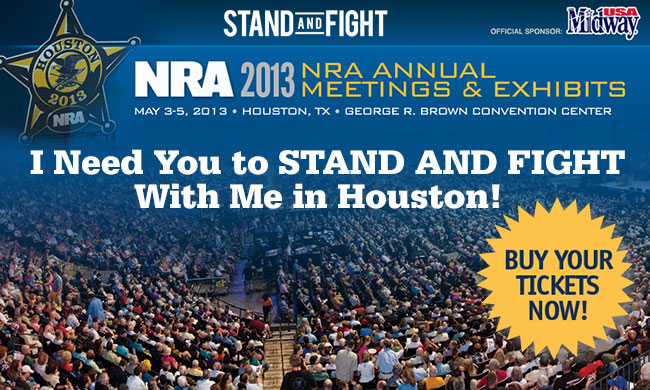 Fellow American,

There is one thing that will show Barack Obama and anti-gun politicians how Americans really feel about our freedoms.

And that's the sight of tens of thousands of NRA members joining together to STAND AND FIGHT for FREEDOM!
That is why I need you to join me for NRA's Stand and Fight Weekend, which will take place May 3 - 5 in Houston, Texas.
You won't find a more fun-filled and exciting event like this on the planet. And this year, our annual weekend will take on historic importance. The survival of our freedom is at stake and I need you there with me!
Registration and tickets for this extraordinary weekend are ON SALE NOW! Go to www.NRAAM.org or call 1-877-672-7632 to get yours today.
Our big weekend features NRA's world-famous
Guns, Gear and Outfitter Show
…and is filled with banquets, auctions, games, prizes, and fun for you and your family!
But there are two very important events that I'm asking you - as an NRA leader - to make sure you attend as my special guest.
The first is NRA-ILA's Leadership Forum. Join me and NRA-ILA Executive Director Chris Cox along with our nation's top Second Amendment leaders in government, the media, and the entertainment industry…as we build our battle plan for defeating Obama's sweeping attack on our gun rights.

Nearly every media outlet in the country will be covering this year's Leadership Forum. They'll be counting our numbers. I need you there with me to help send a clear message to every politician in America that we are united, strong, and ready to fight for our freedom!!!
| | |
| --- | --- |
| And because your attendance at this year's Forum is so vitally important to the immediate future of our Second Amendment rights, tickets are only $10 each. | |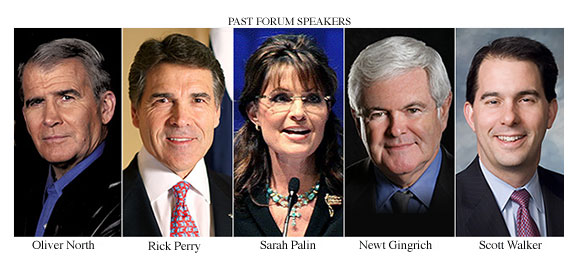 The second event that I'm urging you to attend is NRA's Stand and Fight Rally.

On this very special evening, one of NRA's greatest friends - Glenn Beck - will give an exclusive and eye-opening presentation for NRA members like you.

I need you to be a part of making Saturday night's rally with Glenn in Houston the biggest showing of NRA member power in history! We need to fill the room and let the nation see the strength in our numbers…and hear the thunder of our voices and applause!
Tickets to this extraordinary event are only $30 each. And because I want you to bring as many family and friends as you possibly can, you may purchase two tickets for just $50 - or four tickets for only $80!

Seating is very limited, so please order your tickets today!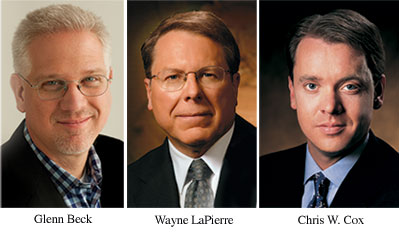 The fight you and I are waging right now against Barack Obama and his gun ban allies is unlike any other I've ever seen.

Winning will take every ounce of effort by every NRA member in our ranks. And winning starts with you and your presence in Houston.

I need you to play an active role in the biggest grassroots uprising for freedom that America has ever seen!

I need you to be there with me on Saturday night, chanting for freedom when Glenn Beck fires up thousands of our NRA faithful!

I need you to STAND AND FIGHT with me in Houston!

Thank you for everything you do for NRA and our great nation. I look forward to seeing you soon!

Sincerely,

Wayne
Wayne LaPierre
Executive Vice President
www.NRA.org